By: Nina Haas, IAESTE intern (Austria)
After my first month in Zagreb (which I spent diligently working on my project in the office) 🙂 , Mirela and Vesna packed me into the university's car and we went on a road trip all the way from Zagreb to the Krka National Park, where Vesna wanted to take some tufa samples.
The day was absolutely perfect. The sun was shining brightly, the air was fresh and warm and everyone was in a good mood. I really enjoyed the 3.5h car ride where I got spoiled with cocoa, apples, nuts, chocolate and interesting conversations 😛 The scenery changed dramatically on our journey. The Mediterranean landscape, I watched flying by outside the window, excited me and put me into summer-vacation-mood.
When we finally arrived at our destination, we were almost alone. Except for the resounding and effervescing water all around, the area was very calm. I totally compensated the lack of tourists by running back and forth excitedly, like a little dog, trying to capture every centimeter of the beauty surrounding me. On our way to the first sampling site, we wandered over boardwalks and bridges, passing entangled trees, blooming flowers, and a duck couple, showing us their pretty tail feathers. The crystal clear water, flowing sprightly underneath us, allowed us to look right down to the bottom and enter the mysterious aquatic world below the water surface.
While Vesna was crawling around in the freezing water trying to scratch off some tufa, Mirela and I took the chance to have some snacks and a little photo session – what else would ecologists do in this situation? 😀
Continuing our tour through the next sampling site, I was sputtering with happiness, watching the sparkling water tumbling over rocks and tufa in the river bed and enjoying the sun in my face. But when you're wandering around in nature with two ecologists, you don't just enjoy, you also learn many interesting facts about your surroundings and get to see it from a completely different perspective. Mirela and Vesna taught me a lot about tufa and in general about aquatic ecosystems. The giant waterfalls became even more impressive, considering that they are only made of fragile travertine barriers, built over hundreds of years by collaborating organisms in the streams and rivers. Imagining that only a minor change in the conditions and water parameters could stop the assembling, or even destroy this rare structure, compelled me to tell everyone about protecting this amazing construction of nature.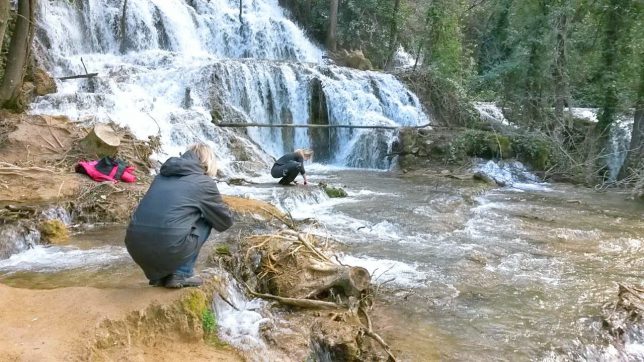 Standing on the bridge, deeply relaxed by the calming nature around me and feeling the immense power of the water slamming down into the river and hastily continuing its journey down to the next travertine barrier, I felt very lucky to be an ecologist. My profession enables me to call fascinating and unique places like this one – my workplace. In these hideaways, where others go to refresh their minds and escape the rush of everyday life, I sit all day long exploring the mystery behind every creature and structure…