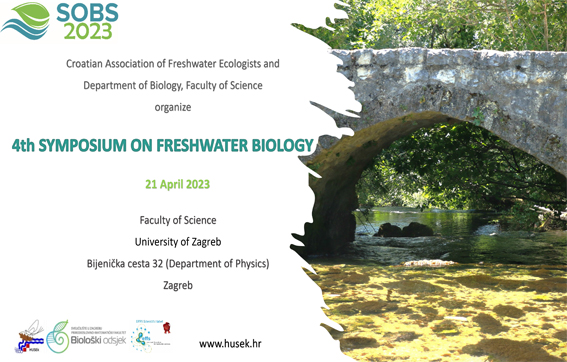 Dear colleagues
We invite you to the 4th Symposium of Freshwater Biology (SOBS) with international participation, which will be held on 21 April 2023 in Zagreb at the Department of Physics, Faculty of Science, lecture halls F08 and F102 (address: Bijenička cesta 32, Zagreb).
The symposium is organised by the Croatian Association of Freshwater Ecologists (CAFE) in cooperation with the Department of Biology, Faculty of Science, University of Zagreb.
The aim of the symposium is to present current research results related to the biology and ecology of freshwater ecosystems. This includes all aspects of ecology, taxonomy, phylogeny, biodiversity, zoology, botany, protistology, ecotoxicology and the impact of global change and anthropogenic activities on freshwater ecosystems. The Organizing Committee is preparing an attractive and informative one-day symposium with oral and poster presentations as well as coffee breaks and lunch for all participants.
We are pleased to announce two invited plenary lectures during the symposium by two oustanding guest speakers, Asst. prof. Maja Zagmajster (University of Ljubljana, Slovenia) and Patrick Leitner, PhD (University of Natural Resources and Life Sciences (BOKU) and Institute of Hydrobiology and Aquatic Ecosystem Management (IHG), Vienna, Austria).
The official languages are Croatian and English. The abstracts will be written in English only. If the oral presentation is to be given in Croatian, the presentation must be written in English. Poster presentation must be written in English only.
Registration of participants and submission of abstracts will be possible from 10 December 2022 to 1 April 2023 via the official HUSEk website.
Registration fee is 70 EUR
The registration fee includes: Scientific programme, Book of Abstracts, Certificates of Attendance, coffee breaks and organised lunch for participants.
Important dates:
| | |
| --- | --- |
| Registration | 10 December 2022 – 1 April 2023 |
| Abstract submission | 10 December 2022 – 1 April 2023 |
| Deadline for abstract review and acceptance | 10 April 2023 |
| Registration fee payment | 1 January 2023 – 15 April 2023 |
| Cancellation of Registration | until 10 April 2023 |
We invite you to join us at the 4th Symposium on Freshwater Biology, where you will undoubtedly have a great time with informative and fruitful discussions with freshwater biologists from all over Croatia and beyond. The members of the Organizing and Program and Scientific Committee of the 4th Symposium on the Freshwater Biology are looking forward to welcoming you in Zagreb!